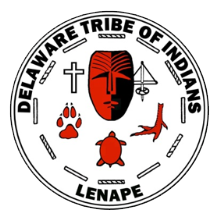 WHO WE ARE + WHAT WE DO
The Delaware Tribe of Indians (DTI) is known as the Grandfather Tribe by the other tribes and is considered to be among the most ancient of the Northeast area. The name DELAWARE was given to the people who lived along the Delaware River, and the river in turn was named after Lord de la Warr, the governor of the Jamestown colony. The name Delaware later came to be applied to almost all Lenape people. In our language, which belongs to the Algonquian language family, we call ourselves LENAPE which means something like "The People".

The Tribe was known as warriors and the peacemakers, often keeping the peace between neighboring nations and admired by early European colonists for hospitality and mediation skills. DTI was the first Indian nation to sign a treaty with the newly formed United States government on September 17, 1778 and the first section of the treaty called for the Delaware to be the head of a friendly Indian state with representation in Congress.